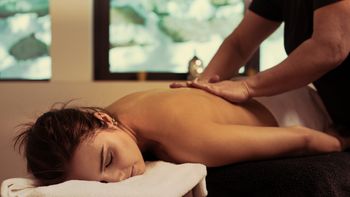 Spa Love in the Alpenwelt Resort****S
Summer in Königsleiten. The perfect time to regain your strength and pamper your body and mind. Our SpaLOVE Package takes you into a world of relaxation and regeneration. After a day in the mountains, enjoy a wonderfully revitalising herbal massage and let yourself be pampered in every way. Feel pure wellbeing.
You can look forward to these special services:
1 x "Alpienne Relax"

per stay | 50 minutes wellbeing
Full body relaxation massage with St. John's Wort massage milk.
Save

the short-term stay supplement

1 underground parking space per booking
…and so much more included in your SpaLOVE package:
- from 2 nihgts with enjoyable
half board plus
Gourmet breakfast buffet with an open kitchen where you can watch the breakfast chef at work
Cake buffet % a 20% discount on the lunch menu (excl. drinks)
Multi-course gourmet dinner in the evening incl. salad buffet or culinary themed buffet
Appetiser or soup buffet, dessert and cheese buffet on some evenings
- free use or our
Alpenwelt FelsenBAD&SPA
unique spa and bathing area in 1600m² of indoor space, huge outdoor area & sun deck and natural spring water lake
All day free selection of spa teas and our fresh, reinvigorating Grander water in the Alpenwelt ClifftopSPA.
SPA rental bag delivered to your room with luxurious bathrobes and sauna towels.
-
Childcare in a loving atmosphere
at the Bear Camp (Sun-Fri 10am to 5pm)
In-hotel guest kindergarten
incl. lunch and drinks
- Attractive
discount voucher for bike rental
at Arena Sport Unterwurzacher directly opposite the hotel!
-
"Free Mountain Card"
: With this free holiday card you can use the open cable cars (valid ca. 15.06. - ca. 06.10.19)
-
Free Wi-Fi
throughout the hotel 
In summer, the
Alpenwelt Resort****S
stands out thanks to its unique location RIGHT next to the gondola |
in the heart of the Hohe Tauern National Park
 | Bike rental right opposite the hotel
Note: There is an additional local tax of €1.60 per person (over 14 years) per day.  For bookings including children see price list. You can use the Alpenwelt ClifftopBATH&SPA after check-in from 3pm on the day you arrive, and until you check out at 10am on your departure day. Your meal plan begins with dinner the day you arrive and ends with breakfast on the day you leave. Please note that the services included are only valid for the duration of the package. Extra nights do not include the services in the package.
Please note that the included services are only valid for the duration of the offer. Additional nights are excluded.
2 Nights
Can be extended by additional nights up to a maximum of 14 nights.
from
€ 233.50
(in the room Comfortable twin room)