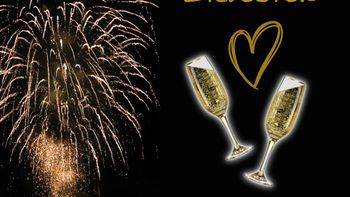 New Year's LOVE at the Alpenwelt Resort **** S - stylish and unforgettable!
Enjoy arm in arm with your most valuable ones, with your partner or your family from our large Alpenrose terrace a unique view of the spectacular New Year fireworks. Happy & smiling faces evrywhere, the snow-capped mountain peaks illuminated by the fireworks, music swings in the air & a new year with countless new possibilities & goals is on the doorstep. Spend an enjoyable winter holiday in our Alpenwelt Resort with LIFESTYLEjoy & SPAdelights. Start the year with well-earned, fantastic holidays. We are delighted to welcome you on this special occasion, and we've put together a first-class package for you.
The following unbeatable services await you when you book:
>
Festive New Year's Eve dinner
>
2 glasses of Secco
| cheers to a happy, new year!
> Enjoyable start to the new year |
New Year's brunch
on January 1st choose à la carte out of four typical "hangover-dishes"
> 1x
€ 20 Wellness voucher
per adult *
…and so much more included in your New Year's LOVE package:
- 7 nights with enjoyable
¾ board
Gourmet breakfast buffet with an open kitchen where you can watch the breakfast chef at work
In the afternoon: cake buffet and a 20% discount on the lunch menu from 2 pm to 4 pm (excl. drinks)
Multi-course gourmet dinner in the evening incl. salad buffet or culinary themed buffet
Appetiser or soup buffet, dessert and cheese buffet on some evenings
- free use or our
Alpenwelt FelsenBAD&SPA
unique spa and bathing area in 1600m² of indoor space
All day free selection of spa teas and our fresh, reinvigorating Grander water in the Alpenwelt ClifftopSPA.
SPA rental bag delivered to your room with luxurious bathrobes and sauna towels.
-
Childcare in a loving atmosphere
at the Action Bear Camp (Sun-Fri 9am to 5pm)
In-hotel guest kindergarten
incl. lunch and drinks
- Attractive
discount voucher for ski hire & ski school
at Arena Sport Unterwurzacher directly opposite the hotel!
-
Free Wi-Fi
throughout the hotel
In winter, the
Alpenwelt Resort****S
stands out thanks to its unique location RIGHT next to the gondola |
SKI IN - SKI OUT
and 2 runs with guaranteed snow to take you back to the hotel after a perfect day on the slopes | Ski hire and (children's) ski school right opposite the hotel
Note: There is an additional local tax of €1.60 per person (over 14 years) per day.  For bookings including children see price list. You can use the Alpenwelt ClifftopBATH&SPA after check-in from 3pm on the day you arrive, and until you check out at 10am on your departure day. Your meal plan begins with dinner the day you arrive and ends with breakfast on the day you leave. 
*Redeemable for wellness treatments or massages with a minimum value of € 60 | 1 voucher redeemable per application | redeemable daily until 2 pm in the Alpenwelt FelsenSPA by appointment | non-dischargeable in cash.
You can buy your ski passes easily and conveniently directly at the cashpoint of the "Dorfbahn Königsleiten", which is only a few meters away from the hotel. The "Dorfbahn Königsleiten" then takes you quickly and comfortably into the heart of the Zillertal Arena, the largest ski area in the Zillertal.
from
€ 1.470,00
(in the room Comfortable twin room)