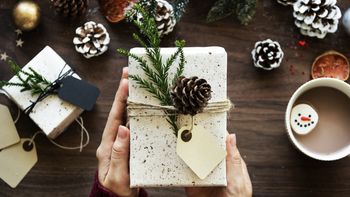 Christmas Magic in the mountains!
Christmas in the mountains at the MY ALPENWELT Resort****s - peaceful and unforgettable! The smell of fresh pine branches wafts through the house, the Christmas tree is decorated beautifully, the children's eyes light up with anticipation. There's a very special, festive atmosphere in the air. Christmas: time for family, time for your loved ones, and time to take time out from everyday life. We are delighted to welcome you on this special occasion, and we've put together a first-class package for you.
You can look forward to these special highlights:
5=4 we're offering 1 day & 1 night for free

festive 

Christmas and Holiday Dinner

incl. 1 free bottle Schlumberger

per booking

1 underground parking space

 per booking
Our Christmas present to you:
1x € 15 wellness voucher per adult for a treatment of your choice (minimum value € 70 | redemption by 2 p.m.) in our FelsenSPA
...and so much more included in your Alpenwelt-HighlightPackage.
Click here for the
ALPENWELT STANDARD INCLUDED SERVICES.
There is no right to a refund for non-consumed included services.
Please note: There is an additional local tax of € 2 per person (over 14 years) per day. For bookings including children see price list. You can use the Alpenwelt ClifftopBATH&SPA after check-in from 3pm on the day you arrive, and until you check out at 10am on your departure day. Your meal plan begins with dinner the day you arrive and ends with breakfast on the day you leave.
from
€ 640.00
per person
(in the room Comfortable twin room)