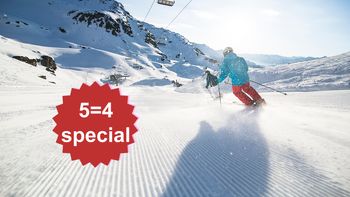 5=4 Sun☼Skiing Deluxe Special

Sun☼Skiing Deluxe 5 = 4 Special at the Alpenwelt Resort****S
Our hot 5 for 4 Sun☼Skiing Deluxe Deal promises even more enjoyment in the
Alpenwelt Resort****S
. Weave your way down the slopes to our large sun terrace, where you can enjoy the mountain sun and relax after a long day in our Alpenwelt FelsenBAD&SPA. Enjoy the deluxe winter feeling with us. Only while stocks last...
The following unbeatable highlights await you:
5 = 4

we're offering 1 day & 1 night free for arrival on Sunday

1x €20 voucher

 per booking on a treatment of your choice in our Alpenwelt FelsenSPA (minimum value € 60 | redeemable until 2pm)
...and so much more included in your Alpenwelt-HighlightPackage.
Click here for the 
ALPENWELT STANDARD INCLUDED SERVICES.
There is no right to a refund for non-consumed included services.
Please note: There is an additional local tax of €1.60 per person (over 14 years) per day. For bookings including children see price list. You can use the Alpenwelt ClifftopBATH&SPA after check-in from 3pm on the day you arrive, and until you check out at 10am on your departure day. Your meal plan begins with dinner the day you arrive and ends with breakfast on the day you leave.
from
€ 520.00
per person
(in the room Comfortable twin room)