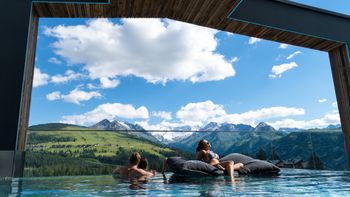 Shorttrip Deluxe ☼ in Spring . Summer . Autumn

Our ☼ Summer & Autumn Shorttrip Deluxe ☼ for your relaxed time-out in summer & autumn!
... whether with your best friend, partner or the whole family!
Just "switch off", enjoy the nature, relax in the wellness area. Our Summer & Autumn Shorttrip Deluxe Package is perfect for all those who want to take a little break from everyday life. Check in from 2 nights with us at MY Alpenwelt Resort****SUPERIOR and look forward to a relaxing short trip of the extra class in the mountains!
... and for even more relaxation, just add 1, 2, 3 or 4 nights :-).
"Relaxing Ad-ON":
1x € 15 wellness voucher* per adult and stay*
· fresh air · feel the life · enjoy life · Bergliebe Deluxe
* 1 voucher per application redeemable | on applications from € 70 | not redeemable in cash | redeemable daily until 14.00 after early appointment (recommended before arrival)
...and so much more included in your Alpenwelt-HighlightPackage.
Click here for the 
ALPENWELT STANDARD INCLUDED SERVICES
.
There is no right to a refund for non-consumed included services.
Note: There is an additional local tax of € 2 per person (over 14 years) per day.  For bookings including children see price list. You can use the Alpenwelt ClifftopBATH&SPA after check-in from 3pm on the day you arrive, and until you check out at 10am on your departure day. Your meal plan begins with dinner the day you arrive and ends with breakfast on the day you leave. Please note that the services included are only valid for the duration of the package. Extra nights do not include the services in the package.
from
€ 625.00
per person
(in the room Comfortable twin room)