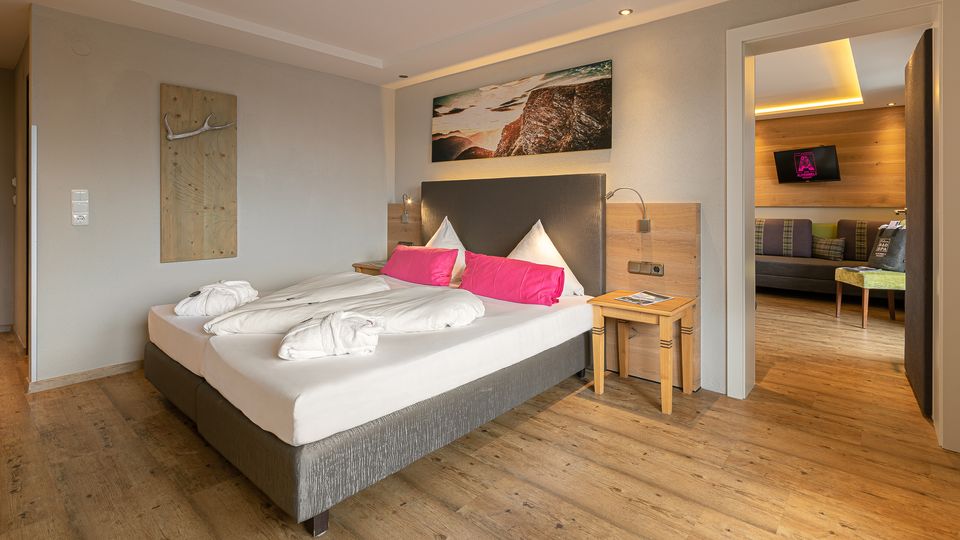 Two-Room Family Suite
Room size: 50 m2
Two-Room Family Suite
Room size: 50 m2
1 combined bedroom-living room for the adults and
1 separate bedroom for the children separated by a connecting door.

Each bedroom has its own bathroom

with toilet, washbasin, shower and hairdryer, hand soap and shower gel.
With LED flatscreen TV with radio function, telephone.
Reading and writing corner.
Room safe.
Interior made of natural wood, leather or linen.
Carpet or wooden floor optics.
Free Wi-Fi.
Balcony.
Different themes such as "Holm Oak", "Larch", "Sycamore" & "Stone Pine" with refined features.
Our rooms and suites are all described and pictured on the website.
The interior photos are sample pictures and may differ in layout, furnishings and decoration.
Rooms are allocated randomly according to availability, length of stay.
Individual requests can only be taken into account subject to availability and at an extra charge.
We cannot respond to complaints made on site at a later date.